Modelling of Damage Evolution in Braided Composites: Recent Developments
Mechanics of Advanced Materials and Modern Processes
2017
3:15
Received: 20 April 2017
Accepted: 10 August 2017
Published: 31 August 2017
Abstract
Composites reinforced with woven or braided textiles exhibit high structural stability and excellent damage tolerance thanks to yarn interlacing. With their high stiffness-to-weight and strength-to-weight ratios, braided composites are attractive for aerospace and automotive components as well as sports protective equipment. In these potential applications, components are typically subjected to multi-directional static, impact and fatigue loadings. To enhance material analysis and design for such applications, understanding mechanical behaviour of braided composites and development of predictive capabilities becomes crucial. Significant progress has been made in recent years in development of new modelling techniques allowing elucidation of static and dynamic responses of braided composites. However, because of their unique interlacing geometric structure and complicated failure modes, prediction of damage initiation and its evolution in components is still a challenge. Therefore, a comprehensive literature analysis is presented in this work focused on a review of the state-of-the-art progressive damage analysis of braided composites with finite-element simulations. Recently models employed in the studies on mechanical behaviour, impact response and fatigue analyses of braided composites are presented systematically. This review highlights the importance, advantages and limitations of as-applied failure criteria and damage evolution laws for yarns and composite unit cells. In addition, this work provides a good reference for future research on FE simulations of braided composites.
Keywords
Braided compositeDamage evolutionFinite-element modelFailure criteriaMechanical behaviourImpact behaviourFatigue
Introduction
Braiding is a method used to interweave two or more fibre yarns to produce textile composites. The angle between the longitudinal direction of a braided preform and bias yarns is generally defined as braiding angle θ; it ranges typically from 15° to 75°. Both two-dimensional (2D) and three-dimensional (3D) braided architectures can be fabricated in many ways, such as two-step or four-step method of rectangular braiding, tri-axial braiding, circular braiding, and other displacement braiding techniques (Bilisik 2012). The main feature of a braided method is its flexibility to achieve variable geometric shapes with high volumes of parts in a cost-effective way. Thanks to the unique undulations of the braided structure, macro cracks have no clear path to grow in epoxy matrix, and their propagation can be arrested at inter-sections of yarns. As a result, braided textile composites enjoy higher fracture toughness, structural stability and better damage tolerance compared to pre-preg and laminated composites (Mouritz et al. 1999). With their high stiffness-to-weight and strength-to-weight ratios, braided composites are attractive materials for aerospace and automotive components as well as sports protective equipment (Ayranci and Carey 2008).
In order to enhance understanding of braided composites, it is crucial to evaluate properties and predict their failure under static and dynamic loading. On the other hand, this topic is still quite challenging, considering complicated braided structures of such composites, rendering nonhomogeneous and anisotropic properties at the constituent level. Extensive efforts in analysis of braided textile composites have been made since 1980s, with most studies aimed at investigating their mechanical behaviour using analytical and/or experimental approaches. In analytical schemes, elastic constants of textile composites were estimated from homogenised equivalents of the representative unit cell (RUC) structure using the rule of mixtures. The predicted levels of strengths were generally higher than those in experimental observations; these higher values were attributed to limitations of linear elastic assumptions in the analytical expressions (Naik and Shembekar 1992; Quek et al. 2003). On the other hand, experimental studies were regarded as expensive and time-consuming. In addition, these studies did not have the capability to provide stress and strain distributions throughout braided patterns or fundamental information on damage models inside the braided composites (Miravete et al. 2006; Littell et al. 2009a, b; Xu et al. 2015a). Thus, it became necessary to seek assistance of powerful computer-aided-design (CAD) and computer-aided-engineering (CAE) tools to clarify damage mechanisms of braided structures and to predict the ultimate strength of composites with such structures.
It is not easy to develop a reliable geometrical model to simulate real braided structures due to the interlacing of yarns and complexity of the braided geometry. One of the difficulties in modelling fabric composites is an inhomogeneous distribution of fibre yarns in them. In some of the practical applications, in-plane properties of textile composites were treated as homogeneous. For instance, textile composites were represented by a composite shell (Xiao et al. 2011; Schwab et al. 2016) or layers of solid elements (Xiao et al. 2007; Yen 2002) and their stress-strain behaviours were modelled with constitutive models developed for unidirectional (UD) or woven composites; obviously, the accuracy of these models for large-tow textile composites was limited. A lack of consideration of a meso-scale structure in finite-element (FE) models was one of the reasons for such discrepancy. Therefore, a number of research teams implemented FE analysis of braided textile composites based on meso-scale geometry models. In these attempts, a RUC was used to evaluate mechanical behaviour of the whole composite structures equivalently (Pankow et al. 2012; Cousigné et al. 2013; Wan et al. 2015).
Mesoscopic structures of braided composites can be represented by various methods. A pioneering work was done by Lomov et al. (2001) who developed a software tool, WiseTex, for geometry modelling of internal structure of textile reinforcement, such as 2D/3D woven, bi-axial/tri-axial braided and knitted etc., transferring data into general FE codes. A similar work was carried out by a Textile Composites Research Group at the University of Nottingham in UK (Wong et al. 2006). A Python-based open-source software, TexGen, combined geometry building with volume-meshing algorithms. In addition, a well-known mosaic model and a sub-cell model (Aitharaju and Averill 1999) were developed. In the former, a composite structure was discretised into a mosaic assemblage, with each mosaic brick element having distinct material properties. Global displacement or stress could be applied to the macro level model and then transferred to mosaic blocks using iso-stress or iso-strain conditions (Bogdanovich 2009). Sub-cell FE models considered a meso-structure of textile composites in terms of simplified RUC representations. However, instead of being homogenized, the RUC was decomposed into three or four sub-cells, and their effective elastic constants were obtained by micromechanical analysis (Aitharaju and Averill 1999) employing equivalent (Zhou et al. 2013; Zhang et al. 2014a) or idealized laminate (Xiao et al. 2007). FE models for the RUCs were subsequently constructed using solid elements of each set of property according to their locations in the RUC. Based on this approach, a generalized method of cells (GMC) was developed (Qi et al. 2014; Bednarcyk et al. 2015). GMC considers a periodic repeating unit cell and is limited to four sub-cells (one for fibre and three for matrix). This theory was firstly generalised by Paley and Aboudi (1992) to consider an arbitrary number of sub-cells and constituent phases. The resulting GMC enables analysis of repeating unit cells containing more than two constituent materials, a more refined fibre shape, and various fibre architectures. Using GMC, Liu et al. (2011) built a framework for a three-scale analysis of tri-axially braided composites, and effective properties of the RUC at each scale were determined. The advantages and shortcomings of these topological meso-geometry models were pointed out by Fang and Liang (2011). The main advantage was that the meso-scale models obtained with these methods could be meshed easily. However, this scheme faced the challenges of internal continuity and stress-singularity problems, which were caused by distinctive elastic properties of two adjacent mosaic blocks (Dai and Cunningham, 2016). Also, realistic meso-geometrical configurations were ignored in the topological methods. Recently, virtual descriptions of the geometries of braided textiles were developed using 3D SolidWorks and CATIA (Ji et al. 2014; Wang et al. 2016b). These versatile geometric unit cells were highly flexible and dynamic in nature, capable of simulating textile tightening, accommodated by yarn deformation and spatial constraint. The unit-cell geometries were then fed into FE analysis packages to determine their individual and continuum-mechanical characteristics (Ji et al. 2014).
To date, many authors in failure prediction in braided composites are adopting these geometrical models as shown in Fig.
1
. In contrast, damage models suitable for braided composites are still under investigation since their failure behaviours are complicated and failure modes can vary under different loading conditions. For decades, the progressive-failure analysis (PFA) of UD laminated composites was applied to both braided and woven composite structures. When the PFA of composites is conducted, failure criteria and degradation models of constitutive material properties are the two most important aspects for consideration. The failure criteria are the conditions for evaluation of the occurrence of material damage. With development of studies on damage mechanisms of composites, although multiple failure criteria for composites were suggested, even a most accepted failure criterion might not be suitable for all the conditions.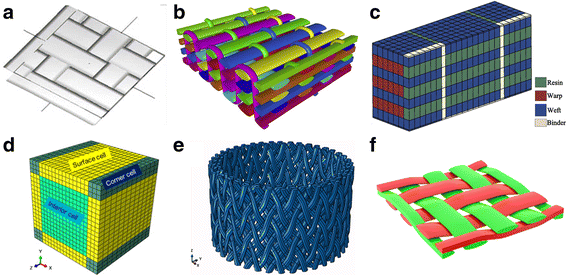 The degradation models are mathematical representations of residual properties for each material damage state predicted with the failure criteria (Garnich and Akula, 2009). The most direct way for damage modelling is a fracture-mechanics-based approach, in which cracks are directly introduced into the model. Still, introducing cracks inside complex yarns-matrix architecture and re-meshing are computationally intensive. Continuum damage mechanics (CDM), which can provide a tractable framework for modelling damage initiation and development with a strategy of stiffness degradation, is one of the important and effective methods to model progressive damage behaviour of fibre-reinforced composites supported by FE procedures. The main advantage of CDM is the straightforwardness with implementation into FE analysis; since the material is continuous throughout the damage process, it does not require re-meshing (Murakami 2012). CDM provides not only the final failure load, but also information concerning the extent of integrity of the material during the load history.
Ansar et al. (2011) systematically reviewed the modelling techniques along with their capabilities and limitations for characterization of the micro-geometry, mechanical behaviour and impact behaviour of 3D woven composites. A comprehensive literature survey was also conducted by Fang and Liang (2011) to review the methods of numerical analysis for 3D braided composites, including meso-scale modelling, mesh-generation techniques and progressive-damage models. These review papers indicated that although various damage degradation schemes based on CDM were suggested, a universal model of damage mechanics, accounting for different loading conditions, failure modes, damage initiation and evolution, is still lacking.
In order to improve efficiency and accuracy of simulation work, scientists continued to develop various state-of-the-art damage-evolution methods for braided composites in past few years. Based on the review works by Ansar et al. (2011) and Fang and Liang (2011), the objective of this paper is to review recent developments made in failure analysis of braided composites. Most of the studies discussed herein were published after 2011. The contents are organised as follows: First, acceptable failure criteria and advanced damage-evolution models for predicting mechanical response of braided composites are discussed. Then, recent numerical studies on impact behaviour are introduced. Last but not least, modelling strategies of fatigue damage are provided.
Conclusions
This paper reviewed main damage-evolution modelling studies of braided composites, from 2011 to the present day, with regarded to static, impact and fatigue loading regimes. For each regime, most broadly used failure criteria and damage-mechanics based schemes for predicting progressive failure in braided composites were presented and analysed. Although most of these approaches were developed initially for UD laminated composites, they were modified and improved to accommodate various characteristics of braided composites. Considering their orthotropic nature, tensor polynomial criteria such as Tsai-Wu type criterion were modified for homogeneous braided composite models. To predict mechanical behaviour of braided composites accurately, a meso-scale RUCs with yarn interlacing was applied. In such models, mode-dependent failure criteria based on the Hashin-type schemes were developed. Thus, several different failure modes of braided composites under mechanical loadings were included, such as fibre fracture, fibre kinking, matrix cracking, matrix crushing, nonlinear shearing and delamination. Correspondingly, for each failure mode, relevant damage-evolution relations were developed. The instantaneous stiffness-degradation method was a simple and efficient approach to implement in FE environment. However, magnitudes of stiffness reduction factors cannot be given in a universal way. More advanced evolution laws based on continuum damage mechanics were validated and proved effective for braided composites. The damage states associated with different failure modes were described with internal DVs. In these studies, the evolution of DVs could be presented in a linear, an exponential or other forms. These PFA approaches were not only suitable for static FE analysis, but also effective in dealing with dynamic problems, including low-velocity impact and even ballistic perforation. More complicated mechanics was needed when analysing responses of braided composites to cycling loading. Although many attempts were successfully implemented for UD composites, studies focused on this aspect in braided structures were quite a few.
In order to enhance accuracy of damage modelling for braided composites, extensive efforts were made in recent few years. Since behaviour of braided composites is affected significantly by their micro- and meso-scale geometries, most numerical damage models were based on micro-mechanical responses of constitutive materials. Such a multi-scale approach was proved effective, with information for different length scales delivered from the local to the global one. The MMF and MCT theories were further developed to improve accuracy for multi-scale models. In terms of advanced damage mechanics, more failure modes observed in experiments were included in prediction models, for instance, failure in out-of-plane directions, yarns/matrix interface, non-linear shear failure modes, etc. Continuum damage mechanics based on fracture energy showed a better capability to evaluate internal damage states of braided composites. In high-velocity impact and fatigue modelling, strain-rate dependent problems were also raised and discussed. Finally, the recent progress in FE modelling techniques could improve computational performance. In this area, advanced meshing techniques were suggested and comparison studies with different boundary conditions were conducted. Although many modelling attempts reported results consistent with experimental data, they are not universally applicable to all the braided structures. So, further studies are also needed to analyse the effect of braiding parameters, with more types of fabric architectures and complicated loading conditions in the future.
However, one of the problems associated with these attempts is reduction of the computational efficiency. Generally, micro- and meso-scale models of braided composites pose certain constraints for industrial designers with regard to strict efficiency and cost limitations. Therefore, it is quite crucial to balance the accuracy and efficiency of damage-evolution modelling for complex structures such as braided composites. In the reviewed studies, simple failure criteria and arbitrary degradation models were applied to reduce the computational time. The choice of failure analysis methods was flexible. For example, debonding at the yarn/matrix interface was usually not considered in micro- and meso-scale models under tensile loading to avoid convergence problems. Instead, delamination was one of important failure modes in bending or low-velocity impact modelling. Moreover, 3D solid elements were widely used in meso-scale analysis because of orthotropic stress states, and shell elements were applied when homogeneous models were developed for whole composite structures. Therefore, more future work should be carried out to increase the accuracy while not increasing the computational cost.
Inspired by the previous efforts, four crucial problems are highly recommended to address when modelling damage of braided composites in the future: (a) Interface problem. Generally, the cohesive elements are inserted at pre-assigned positions when dealing with onset of matrix cracking. However, matrix cracks may occur at many other locations in a braided structure. Ideally, cohesive elements should be placed at more locations instead of limited number of pre-defined positions. To solve interface problem, load redistribution within the unit cell should be captured, and a statistic distribution of material properties for cohesive elements and solid elements are also suggested to be considered in the model. (b) Complicated failure modes and their interactions. One of examples is micro-buckling of fibres in yarns under compressive loading, which plays a significant role in the global behaviour of braided composite structures. Since the yarn cannot be modelled as a solid continuum, a more detailed model of fibres in yarns has to be developed; the instability of fibres in compression has to be incorporated in the material model used for fibre yarn. Besides, the effect of material defects, the effects of fibre reorientation due to large deformation (i.e. scissoring effect) and influence of mode III deformation on braided composites are also worth the attention in future work. (c) Length-scale effect. When converting micro-scale results into meso-scale properties, some of the details are lost in the homogenisation process. For instance, the meso-scale yarn material model only has four strain rate scaling constants (longitudinal stiffness, transverse stiffness, shear stiffness and strength), whereas the micro-scale modelling results have provided a lot more (e.g. strain rate scaling constants for strengths in all loading conditions). Hence, the meso-scale simulations with more detailed material properties would provide interesting results for comparison. It is also a challenge to accurately model a super large composite structure. (d) Influence of service condition and environment. Braided composites are complex in nature, many of their behaviours still remain unclear. In service, the performances of braided composites are also influenced by temperature, moisture and loading directions. Therefore, it is necessary to incorporate these effects on the material parameters, considering a function of thermal-mechanical relationship, in a more complex model. In addition, the aging effect, the edge effect and off-axis effect of braided composites are suggested to be accounted for in a more advanced computational mechanics model. Ultimately, it will be ideal for a knowledge-based automated composite design expert system be established, which would include accumulated understandings and models developed in this area.
Abbreviations
2D:

Two-dimensional
3D:

Three-dimensional
BVID:

Barely visible impact damage
CAD:

Computer-aided design
CAE:

Computer-aided engineering
CAI:

Compression after impact
CDA:

Critical damage area
CDM:

Continuum damage mechanics
CZM:

Cohesive-zone model
DV:

Damage variable
FEM:

Finite-element method
FML:

Fibre metal laminate
FRPC:

Fibre-reinforced polymeric composite
GLARE:

Glass laminate aluminium reinforced epoxy
GMC:

Generalized method of cells
LVI:

Low-velocity impact
MCT:

Multi-continuum technology
MMF:

Micro-mechanics of failure
MMF3:

Three-parameter micro-mechanics of failure
NFC:

Non-crimp fabric
PDM:

Progressive-damage model
PFA:

Progressive failure analysis
RUC:

Representative unit cell
SFA:

Stress-amplification factor
UD:

Unidirectional
WWFE-II:

Second World-Wide Failure Exercise
Declarations
Acknowledgements
Financial support to CW in form of Research Scholarship by the Institute for Sports Research, Nanyang Technological University is gratefully acknowledged. CW is also grateful for the collaboration with the Mechanics of Advanced Materials (MoAM) Research Group at Loughborough University, UK.
Funding
The work was supported by Nangyang Technological University through a PhD scholarship award.
Availability of data and materials
Not applicable.
Authors' contributions
CW carried out the review work; VVS, AR and ZC conceived and supervised the work. All authors contributed to the writing and editing of the manuscript. All authors read and approved the final manuscript.
Ethics approval and consent to participate
Not applicable.
Consent for publication
All the data cited from other research groups have consent for publication.
Competing interests
The authors declare that they have no competing interests.
Publisher's Note
Springer Nature remains neutral with regard to jurisdictional claims in published maps and institutional affiliations.
Open AccessThis article is distributed under the terms of the Creative Commons Attribution 4.0 International License (http://creativecommons.org/licenses/by/4.0/), which permits unrestricted use, distribution, and reproduction in any medium, provided you give appropriate credit to the original author(s) and the source, provide a link to the Creative Commons license, and indicate if changes were made.
Authors' Affiliations
(1)
School of Materials Science and Engineering, Nanyang Technological University, Singapore, Singapore
(2)
School of Mechanical, Electrical and Manufacturing Engineering, Loughborough University, Loughborough, UK
(3)
Institute for Sports Research, Nanyang Technological University, Singapore, Singapore